Be Advised ! USA Racquetball Rules apply to all sanctioned competition, and no exceptions or entry refunds are permitted in the event of any player infractions. Check the rules in advance to learn more about how tournaments differ from everyday play.
Recordkeeping: All entrants are urged to log in to your profile at usaracquetball.com to verify/update your apparel sizing, help event organizers place accurate orders, and make sure you get the right fit when you pick up your tournament souvenir.
---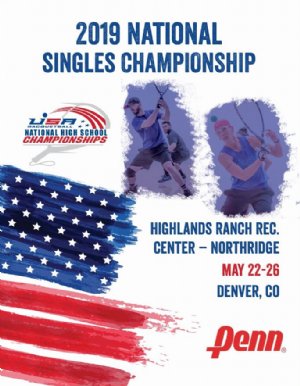 USA Racquetball National Singles Championships | May 22 – 26
Highlands Ranch Community Association  [ download player guide | enter online ]
National Singles is the culminating event to determine who receives an invitation to the U.S. National Team – and will be held in our own backyard this year. Take advantage of your home court altitude to make a bid for your own national title, and watch your favorite top players vie for points to compete in the Pan American Games.
Be sure to note: Players in Elite, A, B, C, and D divisions must not have won the same or higher skill level at a national competition in the past 13 months. State association representatives will be consulted regarding the accuracy of entries. USA Racquetball reserves the right to re-classify and/or disqualify players if they are inappropriately entered. No player may compete in a skill level below their own, regardless of their partner's skill level or gender.
And while there's no late fee, players will receive a $20 DISCOUNT for entering early (by FRIDAY, MAY 3). Sign up today!
---